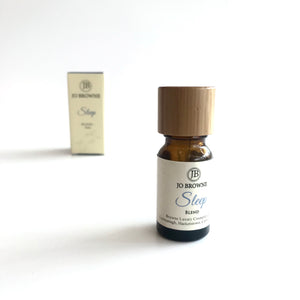 SLEEP AROMA OIL - for Bamboo Diffuser
by Jo Browne
A blend of 9 of the purest essential oils including Lavender, Jasmine and Sweet Marjoram and Frankincense to help calm the mind, reduces tension and anxiety, grounds and calms restlessness.
How to use:
Add 3 drops to your Jo Browne Aroma Bamboo Diffuser
Size: 10ml
(typical 3 month use)
Importance of Jo Browne's Ingredients

At Jo Browne all recipes are a combination of carefully selected ingredients, organic when economically possible and always natural. The skin is our largest organ. It absorbs into the body much of what it comes in contact with. When choosing ingredients that we use in our products, we believe it must be good enough to eat and be beneficial for the skin.